Westphalia Estates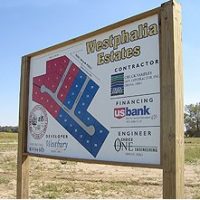 The Westphalia Estates subdivision in New Knoxville, OH is welcoming new residents to the Village.
Westphalia Estates is located just off of State Route 29 on Moulton Angle Road, on the northern boundary of the Village.
The Westphalia project began in October 2005 as a way to expand residential development in the Village.
The parcel that the subdivision currently sits on includes 19.8 acres of land. The first phase contains 17 lots, 10 of which are now for sale.
In the future, the second phase will include the construction of 15 additional lots and the continuation of the road system.
All available lots are located in the New Knoxville School District.
The Village works in concert with Westbury Limited of Celina, OH. Anyone interested in purchasing building lots in the subdivision can contact Susan of Westbury Limited at 937-423-1447 for more information.
To find out more about tax incentives for building a home in this beautiful subdivision, contact Village Administrator,
Rex Katterheinrich at 419-753-4504.